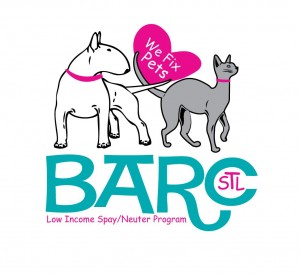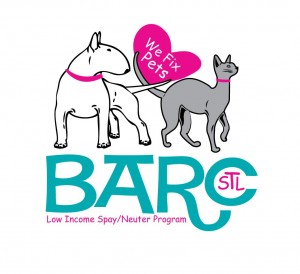 IF YOU ARE LOW INCOME AND NEED YOUR PETS FIXED:
BARC's spay/neuter program is open to anyone who is on government assistance or can show proof of financial need, regardless of residency. Government assistance can be: WIC, Social Security, Social Security Disability, Medicaid, Food Stamps, IL Link Card, Section 8 Housing, etc. Our criteria for yearly low income is under $20,000 per individual or $32,000 per family. Proof of eligibility must be shown on surgery day.
BARC provides this wonderful community service to help families who want to do the right thing and fix their pets, but lack the financial means to do so.
If you qualify, you can schedule an appointment by calling Carol House Quick Fix Clinic at 314.771.PETS (please reference BARC's program). So hurry while funding is available!
BARC's spay/neuter program is for OWNED PETS and not for breeders or anyone affiliated with rescue groups. We cannot provide this service for other organizations.
EFFECTIVE JANUARY 1, 2015: Due to the overwhelming demand for our program, we require a minimum copay of $15 per cat and $25 per dog.
Note about FERAL CATS:  BARC will fix feral cats for a $15 copay but you must show proof of low income in order to get this price.  If you don't qualify as low income, you can utilize Carol House Quick Fix Pet Clinic's low cost feral program of $20.
==========================================================
BARC's Spay/Neuter Stats:
2003: We fixed 100 pets !!
2004: We fixed 818 pets !!
2005: We fixed 453 pets !!
2006: We fixed 944 pets !!
2007: We fixed a WHOPPING 1,738 pets !!
2008: We fixed an AMAZING 2,090 pets !!
2009: We fixed an UNBELIEVABLE 2,370 pets !!
2010: We fixed an INCREDIBLE 2,875 pets!!
2011: An ASTOUNDING 4,135 pets!!! That's a 44% increase over 2010!!!
2012: WOW!!!  We fixed 4,414 pets!!
2013: Rockin' Zero™ Euthanasia:  We fixed 4,859 pets!!!
2014:  An UNPRECEDENTED 6,003 Fixes!!
2015:  We fixed 5,574 pets!!
2016:  We spayed & neutered 5,498 for low-income families!!
2017:  We fixed 5,787 dogs and cats.  Our second biggest year ever!
2018:  We altered 4,616 dogs and cats. . . On our way to Rockin' Zero Euthanasia!
2019:  We ended the year with 2,755 fixed dogs and cats!
2020:  Not a bad year considering the pandemic.  BARC fixed 2,866 dogs and cats!
2021:  We fixed 2,424 pets!! 
2022:  YTD:  2,328 and counting