BARC co-founders Lynne Hilderbrand and Nancy Duncan are pictured on vacation with their parents in Estes Park. They say their parents, Melvin and Juanita Bachmann, instilled in them a passion for all animals.
On a summer afternoon in 1997, my sister and I went on an adventure to the St. Louis City Animal Control shelter (aka, "the pound").  We had only heard about this place and at the time were very naive about the pet overpopulation crisis in St. Louis. With no particular cause or mission in mind, we felt that maybe we could do something to help homeless animals.
Little did we realize the significance that first trip to the pound would have upon our lives as we entered the sad world of forgotten animals. For the two of us, that day was an eye-opening experience that fueled us with motivation and determination.  It was a day that forever changed our lives.
The overwhelming sadness inside the pound was something we had never experienced before.  Like so many others, we started rescuing as many animals as we could.  Our rescue mission went on for several years and we saved the lives of countless cats and dogs.  But no matter how many animals we got out, hundreds more came through the front door.
We opened a nursery in the pound to house young animals because we were out of room in our homes.  We collaborated and transported animals to other shelters in an effort to increase their chances of adoption.  We worked with other rescue groups always pleading for some kind soul to help us get more animals out. We had the policies changed at animal control so that all pets had to be fixed before they were adopted, a novel concept that had not been done there before.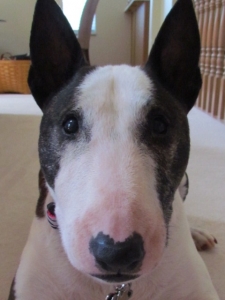 After years of rescue and volunteering at the pound 6 or 7 days a week, we finally came to the realization that we could never adopt our way out of pet overpopulation, not even with the help of every rescue group in town.  There would never enough homes for all of the animals continually entering the area shelters.  We felt like St. Louis was drowning in unwanted animals.  Thousands of dogs and cats are still euthanized every year, despite all of the wonderful efforts and work of so many shelters and rescue groups.
We knew we had to refocus our efforts and take a more proactive approach.  One of the things we had learned from our time volunteering was that the majority of people relinquishing animals at shelters simply could not afford to fix their pets.  Pet overpopulation and poverty go hand in hand, so there was an obvious solution … we needed to fix pets for people who could not afford to do so.
In October 2003, BARC's humble spay/neuter program was born.  Our first program provided 100 free cat spays for families on government assistance.  Our current spay/neuter services are in effect year-round and continue to grow.   Since we started our program in 2003, BARC has provided more than 67,000 free or low cost spay/neuters for low-income families. We continue to gain momentum, with 3,192 surgeries in 2022 for pets of those families most in need.
Our passion to eliminate the euthanasia of healthy, adoptable cats and dogs is strong.  We will stay steadfast in our efforts.  We won't stop until we get to ZERO euthanasia, and we know it can be done!
Thank you for taking the time to read our story.  We hope you will take some time to learn more about what we do today by visiting the remainder of our website.  If you love your pets, please fix them!  It's the kindest thing you can do for them and our planet.
Lynne S. Hilderbrand